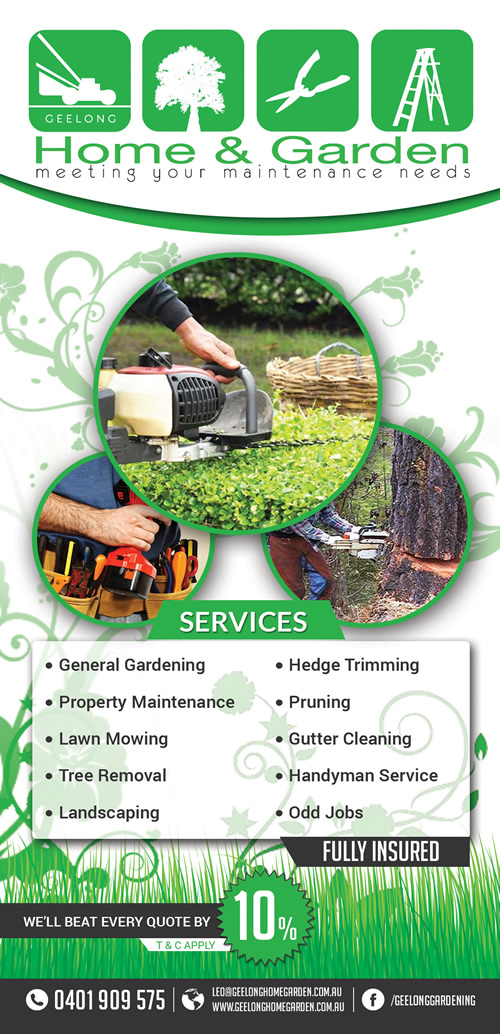 No job too big or small – Get in touch Today!
Geelong Home and Gardening Services and Maintenance.
OUR SERVICES
Gardening
Our gardening care and maintenance services:
Lawn mowing
Grass slashing
Brush cutting
Weeding & weed control
Mulching
Hedge trimming/pruning
Ground maintenance
General clean up
Rubbish removal
Request Free Quote
Call: 0401 909 575
Landscaping 
Geelong Home & Garden can help develop existing ideas or recreate the design to suit the property and budget.
Services we offer:
Instant turf
Garden make overs
Lawn restoration
Mulching, stones, rocks, pebbles toppings
Garden bed, edging and boarders
Planting and fertilization
Deck and Pergolas
Request Free Quote
Call: 0401 909 575
Handyman – Ready
Geelong Home & Garden offer Handyman Services to Geelong & all surrounding areas.
All odd jobs, inside & out, big or small.
We specialize in repair, replace, renovate or customize work such as:
Tiling
Plastering
Roofing
Decking
Floor
Framing
Painting
Hinges & brackets work etc.
Request Free Quote
Call: 0401 909 575
Hedging & Pruning Ready
Regular maintenance is required on hedges and shrubs to provide fantastic outdoor landscaping and design. They help to provide your yard with beauty as well as privacy. Pruning will improve, maintain plant health, reduce risk from falling branches and can stimulate increase growth of quality of flowers and fruits. Our hedging and pruning services include removal of deadwood, trimming and formal re-shaping.
Pressure Cleaning
We use high pressure water blaster to clean mostly exterior hard surfaces. The ideal for removing a variety of stains, dirt's, debris, grease and mosses. The service is excellent for preparing your property for sale, getting ready for an important occasion, or just getting the place looking as neat and clean as possible.
Example of the surface :
House Windows Wash, Roof & Gutter Cleaning
Swimming Pools, Concrete Driveways and Paths
Boat Ramps, Patio, Deck
Fences, Bricks, Tiles
Surface sealing, Solar Panels
Request Free Quote
Call: 0401 909 575
Gutter cleaning
The main benefits of regular gutter cleaning are to avoid blocked down pipes, rusting and leakage, allowing cleaner and better flow of rainwater into drainage systems. Regular cleaning ensures gutters are well-maintained and will last a long time. This prevent hefty cost in repairing or replacing gutters.
Why is it important to clean your gutter regularly?
For areas in a high fire danger, it is also essential for protection.
Lack of cleaning gutter provides ideal conditions for breeding mosquitoes. Bugs love moisture. Plants, bird, insects well make a home in gutter debris.
A good clear & functional gutter system is important for proper drainage from your roof.
Prevent broken or clogged gutters, can result in costly repairs.
We can remove all the debris out of your guttering whether it is wet or dry.
Request Free Quote
Call: 0401 909 575